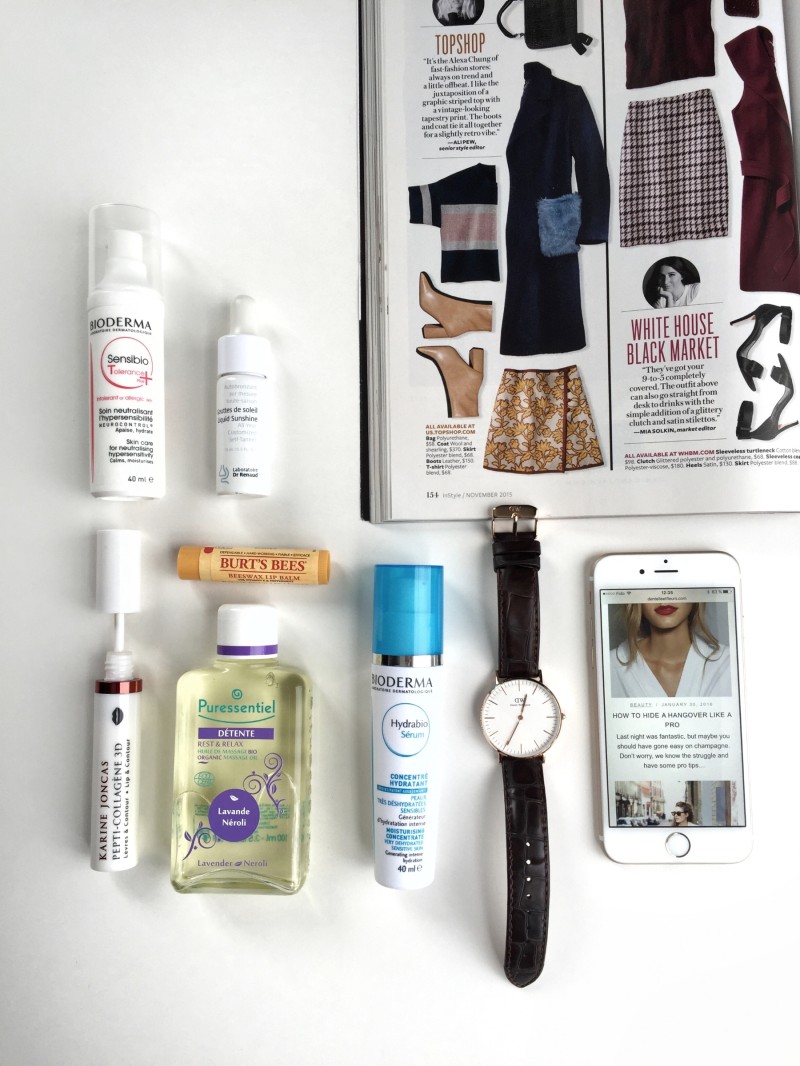 These products all have one thing in common; they are free of paraben, mineral oil and fragrances. They do not contain the most common toxic products present in cosmetics and they are safe to use. Some are solely made ​​from natural or organic ingredients.
Liquid Sunshine (Dr Renaud)
No synthetic perfumes and colorants, nor alcohol or formaldehyde (an irritant colourless gaz) and not tested on animals. We like how easy it is to use: simply mix a drop or two with your day/night cream. The result is natural and fades off if you stop using the product.
Organic massage oil – Lavender and Neroli (Puressentiel)
Made only from organic ingredients, this massage oil with relaxing properties is great to use after a hot bath following winter sports and outdoor activities. We can even put a few drops in the bath for maximum relaxation.
Smoothing & Plumping Serum for lips (Karine Joncas)
All the Karine Joncas products are made in Quebec and are not tested on animals. Although they contain some ingredients that are not natural, they prove to be a better option than most similar products found in pharmacies or supermarkets. They do not contain the most often used toxic ingredients usually found in cosmetics, such as parabens and synthetic fragrances.
Moisturising concentrate Hydrabio and Skin care for neutralising hypersensitivity Sensibio (Bioderma)
Both products are hypoallergenic and free of comedogenic and mineral oil. The moisturising concentrate Hydrabio gives a deep hydration to skin that got dried out by the cold temperature. The Sensibio skin care neutralizes skin's hypersensitivity. We like to use both products as makeup bases and to restore elasticity to our skin.
Burt's Bee's beeswax lip balm
Winter is a tough time for lips. This 100% natural lip balm contains vitamin E and works like a charm. Always try to stick to natural lip balms as most of them contain mineral oil, fragrances or artificial coloring, phenol and petroleum jelly (yes petroleum jelly – also called petrolatum – is a harmfull ingredient – it is an oil byproduct that may contain carcinogens.)
To read more on the dangers of mineral oil, petrolatum, perfumes, parabens and other harmfull ingredients used in cosmetics, click here.