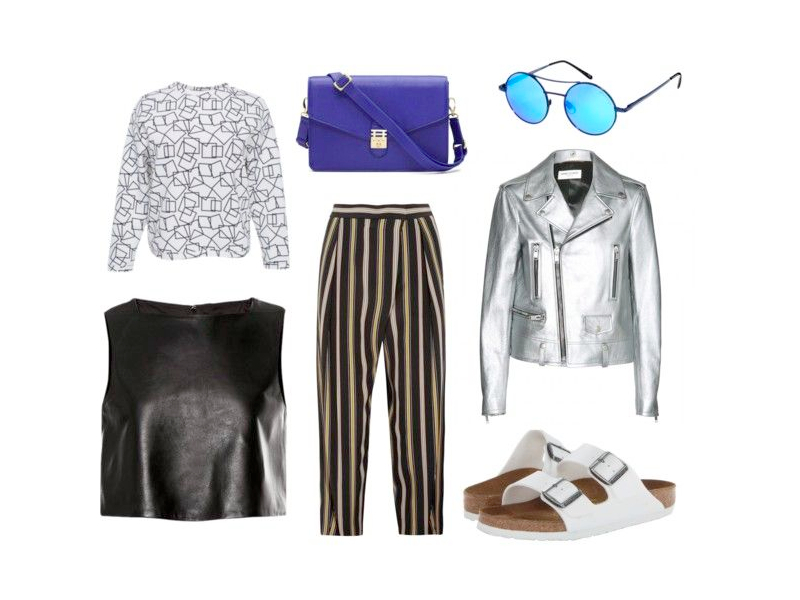 Spring is upon us (well, almost) and so is spring shopping! At the very first ray-of-light, people get crazy in stores, looking for sales and trying to find the best crop tops they can. I say no to that type of shopping for this season! Your next purchases should not be the "but it's only 3$" type. Think about what you need, what you love, what you want to update. You don't own a simple white tee? Put that on your list. If you are having trouble with the trends, here are 7 items that can be worn during spring AND summer AND autumn and that will still look good in a couple of years:
1. A geometric top. Right on trend, but the black and white makes it timeless  2. A small colorful bag. Blue is not a spring-only color. You can wear it with simple jeans and a basic t-shirt  3. Sunglasses. Update them, it is always fun  4. Something metallic. Shoes, blazer, outerwear, bag, whatever. Metallic is fun AND on trend  5. Birkenstock. Everybody loves them for their comfort and they are not the ugly shoe anymore. You can wear them with socks, if you dare!  6. Trousers with wide legs. Printed or not, you'll wear them over and over again, all year long  7. A structured top. I love this leather one because it is timeless.
If you don't feel like going into stores, you can even shop the post below!