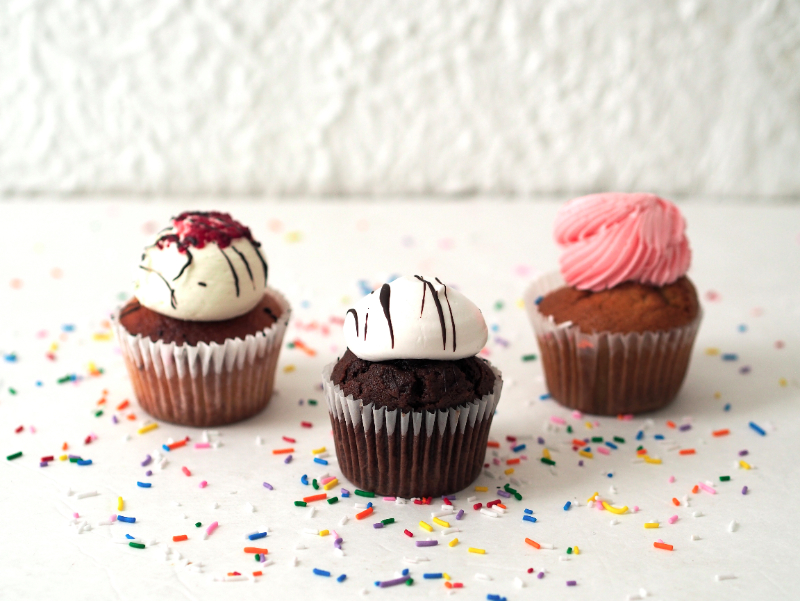 Celebrating 3 years of blogging with 3 cupcakes, how classic. Three years an a month ago, I wrote my first blog post, discovering and exploring this whole Internet world. I've grown and changed a lot since, so that is why I want to share 3 things (concept!) that I learned from my experience:
1. If you want something, go get it. When I started my blog, I wanted to share my love for fashion, photography and writing with the world. I also wanted to get something exciting from it: new opportunities, new jobs. Guess what? It happened, and I am glad it did. The only thing I had to do is, well, to do it!
2. Nothing will work unless you do. I learned during my blog journey that it was not only a fun thing to do, but also a lot of work. I've sometimes tried to reach out for help, but I always ended up counting on myself. No one is going to write for you, no one is going to ask you: " Have you taken your pictures today?". This blog is and will always be my baby, my own work, my art. I had to compromise countless afternoon park-chilling, sundays coffees and cocktail hours to make it work. Guess what? It was totally worth it.
3. You can find inspiration everywhere. I've been asked so many times who my style icon is, and my answer is now: Pinterest (or Tumblr). I read magazines, I watch tv shows, I stare at people in the metro, I spend countless hours on Tumblr, all of this to get my inspiration rolling. Because, yes, sometimes, you have none, and that is the beauty of it.
Here are the 3 main things I've learned from my experience, but there is many more. If you decided to expose yourself, just remember: people are either going to like you or hate you. For everyone who likes this blog and reads it, thank you. Thank you for coming back, for leaving comments, for just being there, it means the world. Now, enough with the emotions, excuse-me while I eat these cupcakes.