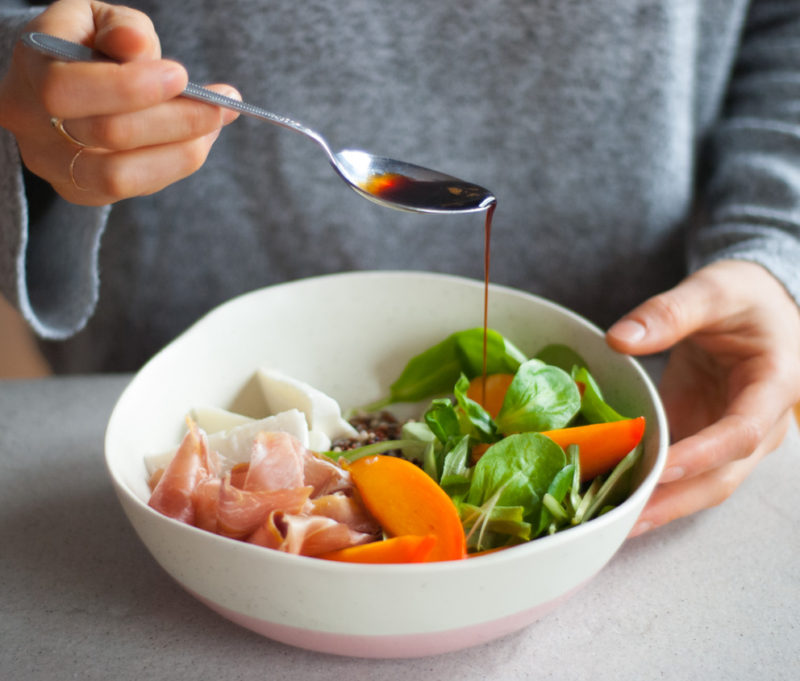 One of the best ways to celebrate fall season is by making delicious harvest bowls. They are super easy to make, healthy, and insanely delicious. Right now, we are crazy about sweet and juicy persimmons. Try it for breakfast, in your salads or your desserts, we promise you will fall in love with this bright orange fruit. This quinoa and persimmon harvest bowl will quickly become your new favorite fall recipe.
Quinoa harvest bowls with persimmon and prosciutto
Yield: Makes 2 bowls
Ingredients
1 cup cooked quinoa
2 ripe persimmons
8 slices prosciutto
1 100g ball burrata or fresh mozzarella
10 basil leaves
1 cup mache
¼ cup olive oil
2 tablespoons good quality balsamic vinegar
Instructions
Trim the stem end of the persimmons, then slice each into 8 wedges.
Divide the quinoa among two bowls.
Top with persimmon, prosciutto, burrata, basil and mache.
Drizzle with olive oil and balsamic vinegar.
Season with salt and pepper and serve.