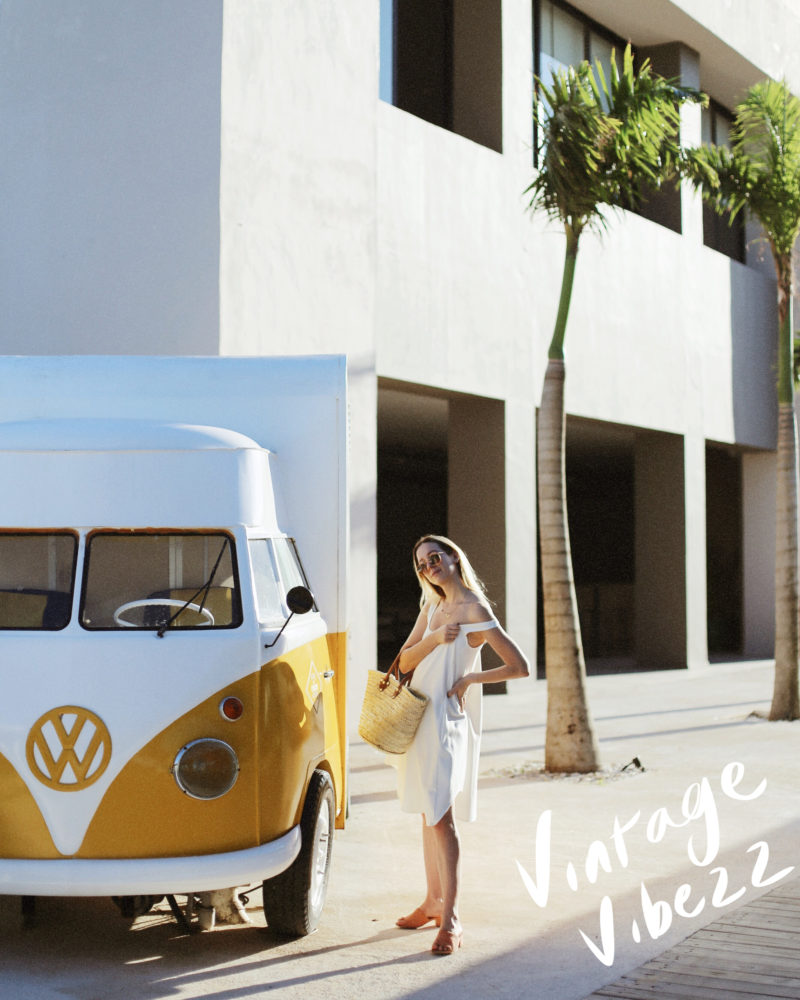 Two weeks ago, I had the pleasure to travel with Air Transat to the Dominican Republic as one of their guest. I was really excited to attend, since it was a great reason to escape the cold, travel with a few of my blogger friends and experience this country for the very first time. The purpose of the excursion was to visit five different adult oriented luxurious hotels in a week and to experience what they all had to offer. As it may seem like it was a unique trip crafted for only us, I want to emphasize that all these wonderful places were just treating us like they would threat you guys if you would ever book a few nights there. Yes, you could too access all those wonderful things for a week as well, so get your pen and paper ready to note down your next destination.
First thing first was to get to the island. At the airport at 5 in the morning, Transat had a little surprise for us ; we would get to sit in Club Class during our 4 hours flight. This means lots of leg space, no wait at the check-in counter, fun drinks, food curated by chef Daniel Vézina (FYI I am a HUGE fan of airplane food and this one was wow) and amazing staff to assist us. I mean, for only a couple $ more, I know I am going to pay the extra for my next flight. It changes everything.
Since I want this post to be easy to read and accessible, I won't be crowding you with too much information. I separated every hotel group so you can access them easily if you want to book at vacation there and added LOTS of images, since a photo shares way more information than words. My personal notes I took while in Punta Cana will be shared via bullet points, so everything is clear and understandable. Still, I precociously wrote fun details of my experience on a few photos, so you know what they represent and what were my favorite parts of the trip. Ready, set, hotels!
Excellence El Carmen
The first hotel we experienced during the week was the Excellence El Carmen. It was, for me, a great discovery. We spent 3 nights there, danced, got to know each other better and shot a bunch of great photos. If I had to go back to Punta Cana, I would personally book there, no second guess. (click on the photos to see them full size)
Starting at $2 179 per person.
One of my favorite hotel I've ever visited.
The room reminded me of a tiny apartment, which I really enjoyed. I felt at home and at peace in there.
The lobby as well as the whole decoration is modern and chic. The decor is very well curated, even in the little coffee shop where you can get a delicious iced latte.
A lot of pools to choose from. You want to share? Go to the big pool. Want to spend some time alone? Try one of the many small pools available on the site.
Spent a lot of time in the bath, since it was half inside, half outside, with a great view.
I would recommend this place for a Wedding and for young adults (25 to 35 years old).
A must try: The Spa experience. Think « walking on hot stones » and « scalp massage ».
Paradisius Punta Cana & Palma Real
Even though we didn't spent the night in those 2 hotels, I enjoyed relaxing on the beach and visiting the different rooms that were available. I put those two hotels in the same category, since I have quite the same bullet points for both.
Starting at $2 269 per person
The staff was beyond courteous. They even did a flash mob when we got there (what? yes!)
The food was great. We got to experience a fine dining experience with 5 servings.
The perfect place if you are a plant lover. Lots of greenery in the Lobby (Palma Real) and around the pool as well.
Perfect for Wild life observation. Bright orange flamingo, anyone?
One of my favorite beach visited is at the Paradisius Palma Real. Loved the beds and the service there.
Would go back at this hotel just for the private outdoor bed in my room's backyard.
Iberostar Grand Hotel Bavaro
The second hotel we spent the night at was the Iberostar. We were all greeted very nicely and each got our own Butler. His role was to make sure we were comfortable and happy at every time of the day, which is why he asked for our drink preferences and at what time we like to take our bath so the water could be ready when we got in our room. Not so bad, right?
Starting at $2 689 per person.
Most impressive Lobby of all the hotels.
Special mention for the greatest buffet of all, and that is important in an all inclusive.
The view of the Spa is to die for.
There is a huge boat in the middle of a pool that transforms into a night club. I even got to DJ there a bit.
The service on the beach is great.
Would recommend for adults in between 35 to 45 years old.
Secrets Cap Cana Resort & Spa
Last but not the least was the Secrets Cap Cana. We got there at night, but still experienced a more-than-warm welcome. My favorite part? You could order room service and get it without opening your door with the magic of a secret trap! Great when you don't feel like seeing someone first thing in the morning. Don't forget to click on the photos to see them full size.
Starting at $2 389 per person.
The whole site is quite an eye candy.
They, too, have a great butler service.
Voted most impressive shower in Punta Cana by yours truly.
Hands down the best bath of all the hotels- theirs is right on your balcony, outside!
The infinite pool is breath taking and they put music on during the afternoon if you feel like dancing and day drinking (I know I do).
At night, they have a Jazz duo or trio in the Lobby. Very chic.
Another great thing was their « do not disturb » light at the entrance of your room. If you let it red, no one is going to knock at 8 am screaming CLEANING TIME. Love it.
Want to head to Punta Cana? Transat flies to the Dominicans every day. Knowing that, there is absolutely no reason for you to experience that seasonal depression.
This post is sponsored by Transat but all opinions are mine.