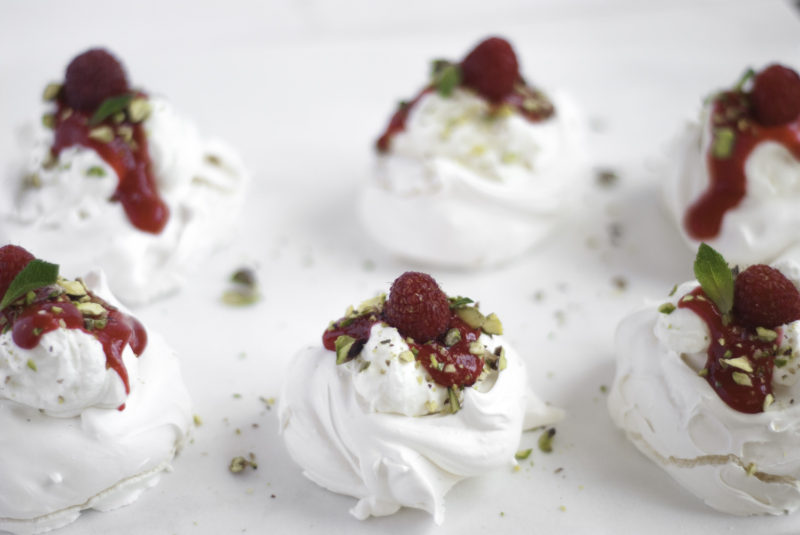 Quebec's berry season is almost here and we're already dreaming about summer pastries! With a crunchy shell and a soft inside, Pavlova is a meringue dessert usually eaten with whipped cream and fruits. It takes time to bake the perfect meringue, however this lovely dessert is easy to prepare and makes the perfect addition to any occasion. For this recipe, we chose the most stable of all, the Italian meringue.
Pavlovas with rose whipped cream, raspberries and pistachios
Yield: Makes 8
Ingredients
Italian meringue
1 cup sugar
1/3 cup water
4 egg whites
Pinch of salt
Rose whipped cream
1 cup heavy cream
2 teaspoons rose water
Raspberry sauce
1 cup fresh raspberries
To serve
1/3 cup pistachio nuts, roughly chopped
Fresh raspberries
Fresh mint
Instructions
Preheat oven to 200°F and line a baking sheet with parchment paper.
In a small saucepan over high heat, combine sugar and water. Cook until sugar syrup registers 117°C (240°F) on a candy thermometer.
Meanwhile, in the bowl of an electric mixer, whip the egg whites with a pinch of salt on medium speed until foamy. With the mixer running, add the hot sugar syrup in a thin stream over egg whites. Beat until stiff and glossy, about 8 minutes.
Drop spoonfuls of meringue onto baking pan and bake for 3 hours.
Let cool completely on wire racks before filling.
Put cream and rose water into the bowl of an electric mixer and beat on medium speed until soft peaks form.
Puree raspberries in processor. Pour puree into strainer set over bowl, pressing on solids to extract as much liquid as possible. Set aside.
Fill the meringues with whipped cream mixture. Top with raspberry sauce, pistachio nuts, fresh raspberries, fresh mint and serve immediately.