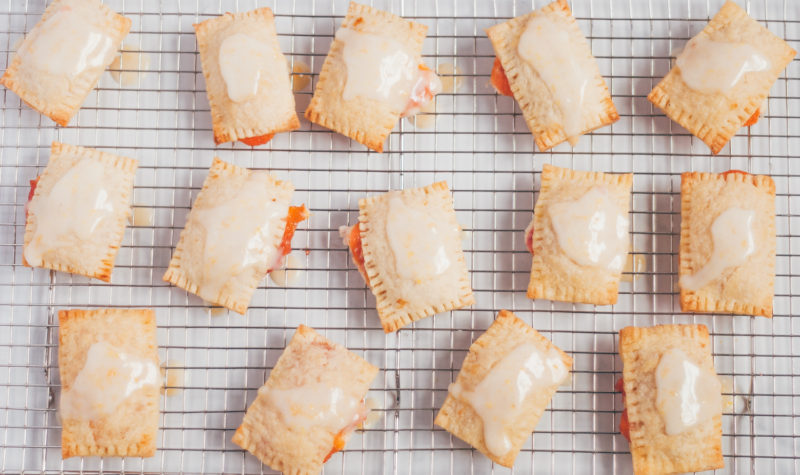 Eating dessert for breakfast? Sounds like a good idea to us! Embrace the most important meal of the day with our delicious homemade nectarine and ricotta Pop Tarts! These small hand pies are good to go, wherever you're going and the popular store-bought box brand has nothing on these, we promise. No need to mention that our recipe is way healthier than the original one. They're so cute, you won't be able to resist!
Nectarine and ricotta mini hand pies
Yield: Makes 16 mini pies
Ingredients
Pie Crust
1 3/4 cup all purpose flour
3 tablespoons sugar
1/2 teaspoon salt
3 tablespoons cold water
1 egg yolk
1/2 cup unsalted butter, chilled and cubed
Filling
3 nectarines, sliced into wedges
1/4 cup sugar
1 tablespoon cornstarch
1 tablespoon water
1/4 cup ricotta
A drop of almond extract
1/4 teaspoon lemon zest
1 tablespoon honey
Glaze
1/4 cup confectioner's sugar
1 1/2 teaspoon milk
Instructions
Prepare the pie crust. In a bowl, combine flour, sugar and salt. Add butter and rub into flour with fingers to coat each pieces evenly, making them flat and thin.
Combine water and egg yolk in a small bowl and pour over flour mixture. Knead until dough starts to come together. Press into a thick disk, wrap and chill for 1 hour.
In a small saucepan, combine nectarines with sugar and bring to a boil. Reduce heat and simmer, stirring occasionally until nectarines are softened, about 5-7 minutes.
In a small bowl dissolve cornstarch in water. Stir into the sugar and nectarine mixture and cook for a few seconds, until thick. Remove from heat and let chill completely.
In another bowl, combine ricotta, almond extract, lemon zest and honey. Cover and chill.
Preheat oven to 375°
Roll out the crust and cut small rectangles into 2×3″pieces about 1/8″ thick and place them on baking sheet lined with parchment Fill half of the rectangles with one teaspoon of nectarine and top that with one teaspoon of ricotta filling. Brush the edges with water, and place remaining rectangles over. Press lightly and then seal with the tines of a fork.
Make small holes into the top of each pastry with a toothpick.
Bake for 25-30 minutes until golden brown. Cool on a rack.
In a small bowl, combine the confectionner's sugar with the milk and drizzle glaze over the hand pies.