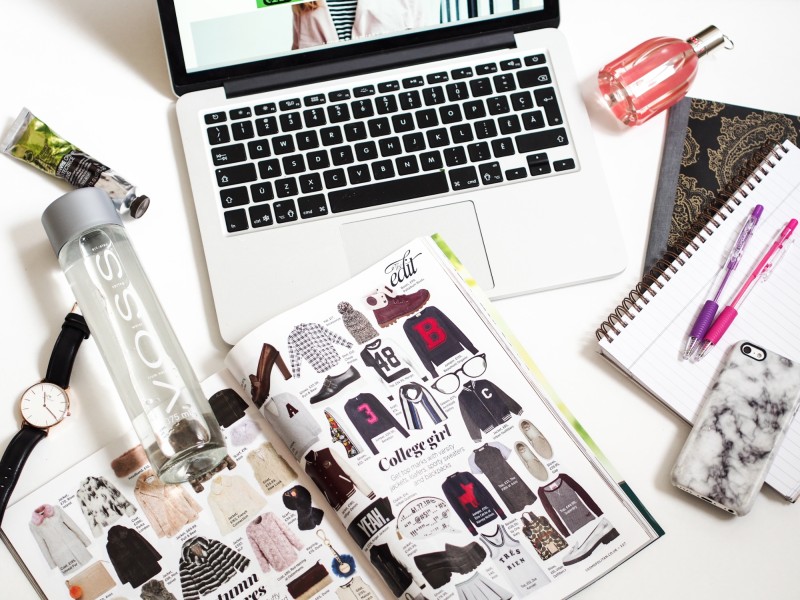 When I started blogging 4 years ago, I didn't even know it was a possibility to work at it full time. When I learned that it was possible, I did everything I could to make it happen, because blogging is what I love most. I worked super super hard (for free), I read about it constantly on IFB and I managed a full time job while working full time on my blog. Then, I tried to make it happen, and it didn't work. I went back to my full time job, thinking it was impossible to do this in Quebec. Then, a few months ago, I tried again and it worked. Still, people are so judgmental when it comes to my work and my daily routine. After all those caricatured blogger videos, some think that all I do is snapping pics of my green smoothies. I know it is hard to picture a day in the life of a fashion blogger, so I decided to play "myth buster" and tell you a little bit more about what being a full time blogger entails (I swear it is not what you think):
I am always in front of my computer
Yes, it is true, I spend most of my day in front of a computer. This means that I am either writing for the blog or doing freelance work. I know how the ins and outs of social media platforms and I understand HTML. I look at youtube videos when I feel like trying something new (videos, photoshop) and I spend a lot of time editing photos. Being a blogger means managing a small company alone. For example, this means answering multiples e-mails in a day, doing taxes, creating newsletters, bargaining, calling for tech support, etc. So no, my day is not all about wearing princess dresses and snapping pictures of my breakfast. It is more about working super hard behind a computer. Most of the time I end up doing it in my pyjamas.
The Glamour part is only 10% of the job
When you want to blog, you have to work hard, really hard. Some people think all I do is go to events and drink champagne. Again, this is a myth. I sometimes do not even have time to attend those events, because I am too busy working on the site (writing, taking pictures, editing them, phone calls, answering e-mails, solving a tech problem). Yes, those soirées are fun, since you get to meet people or see your blogger friends, but they are not everything. Plus, most of the time, when you attend, you have to take pictures there, edit them afterwards and write a paper about the night (yes, which means, work!).
You probably read those article mentioning fashion bloggers who make millions. I read them too and I must say I am always surprised. I know the location factor doesn't help (being in Quebec), but I still have to work for other compagnies and individuals to make a living out of this. I write for magazines, I create Instagram content for brands, I manage Facebook pages and I am also a stylist. Do not get me wrong, I LOVE doing this, but you end working much more than 40 hours a week. It is not your typical Monday to Friday, 9 am to 5 pm type of job.
Were you expecting those 3 things? Do you still have questions regarding the blogger life?