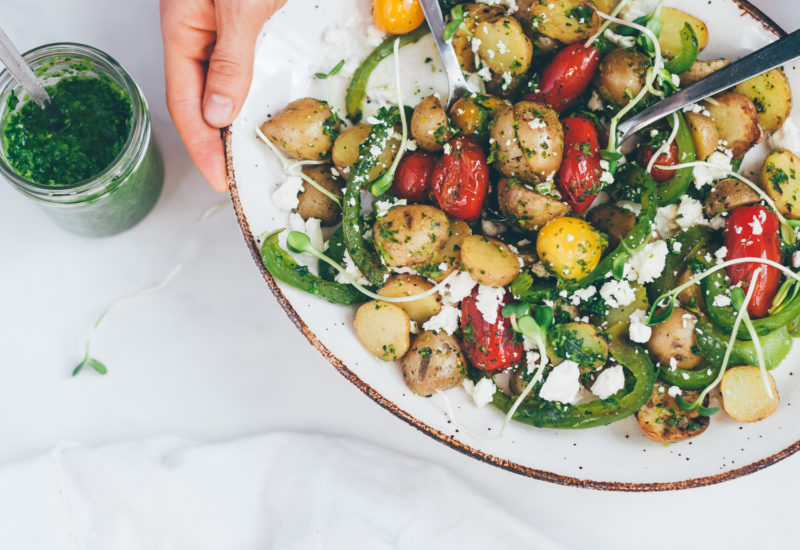 There's nothing like the taste of herbs picked fresh from your own garden! But everybody will face a herb surplus at some point. You don't know what to do with them anymore? Don't let them go wild in the soil, make Chimichurri! This South American herby sauce is usually served on grilled meats, but can also be used in sandwiches and more. Try it in our grilled vegetables summer salad!
Grilled vegetables salad with Chimichurri
Yield: 2 servings
Ingredients
Chimichurri
1/2 cup cilantro
1/4 cup parsley
2 tablespoons mint
2 garlic cloves
2 tablespoons red wine vinegar
1/4 cup olive oil
Salt and pepper
Salad
2 cups baby potatoes, halved
2 tablespoons olive oil
1/2 green bell pepper, sliced
1 cup cherry tomatoes
Sunflower sprouts
Feta cheese
Instructions
In a food processor, pulse cilantro, parsley, mint and garlic until finely chopped. With motor running, slowly add vinegar and olive oil and process until combined. Season with salt and pepper and reserve.
Place potatoes in a large pot filled with cold salted water. Bring to a boil and cook until tender. Drain and let cool.
Heat oil in a large skillet. Add potatoes and cook for about 5 minutes. Add the green bell peppers and tomatoes and cook for another 5 minutes. Season with salt and remove from heat.
Transfer vegetables to a platter and stir in about 1/2 cup of Chimichurri sauce. Taste and season with salt and pepper if needed and add sunflower sprouts and feta to taste.