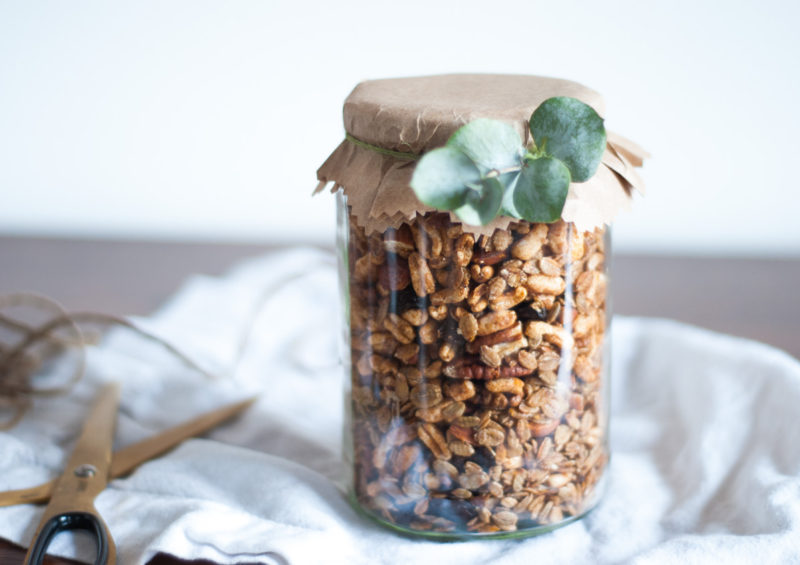 Holiday season means dinner parties, lots of them! Bringing a thoughtful gift is a nice way to thank a hostess for his/her hard work. Trade in the store-bought gift or traditional bottle of wine for a homemade unique hostess present. Make your own browned butter and maple granola! Place the finished product in a jar, dress it with kraft paper and voilà!
Browned butter maple granola with cranberries and orange
Ingredients
¼ cup butter
¼ cup maple syrup
1 cup rye flakes
1 cup kamut puffs
½ cup chopped almonds
½ cup chopped pecans
¼ cup dried cranberries
Zest of 1 orange
Pinch of sea salt
Instructions
Preheat oven to 350°F.
In a saucepan, melt the butter over medium-high heat and cook until butter foams, then browns about 5 minutes (Watch it carefully, as butter can burn quickly!).
Transfer to a bowl and let cool for 5 minutes.
Add the maple syrup and mix to combine. Set aside.
In a large bowl, combine the rest of the ingredients.
Pour in the butter and maple syrup and mix.
Spread out granola on a parchment-lined baking sheet and bake, tossing occasionally, until golden brown, 15-20 minutes.
Let cool completely and place in a jar.
Don't forget to tag us on social media if you try our recipe, we are curious!