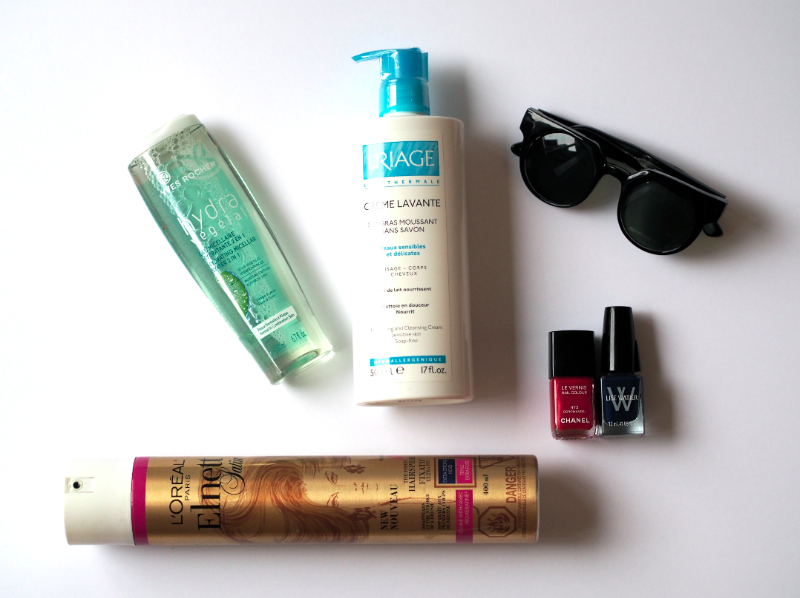 Yves Rocher Micellar water. Uriage body, hair and face soap. Spitfire sunglasses. Lise Watier and Chanel nail polish. L'Oréal Elnett hairspray.
It was not a personal challenge, neither a way to fight against a certain disease. I went (and still is) through two weeks without makeup because I had eye surgery, which means nothing that could infect my eyes for that amount of time. I know, it is not the end of the world, but as you know, I am the mascara king of gal. Mascara and eye concealer. Then, I wondered, maybe some of my readers are going through the same phase, for another reason, or because they had eye surgery too (very popular at the moment), so  I decided to share my two-weeks-without-makeup survival kit:
1. Take good care of your skin. No concealer allowed means everyone gets to see your little flaws and pimples. Use gentle products and wash your face 2-3 times a day with water and hydrate once a day with a Micellar water or any product that fits your need. Same thing for your body  2.Wear sunglasses. Well, I had to, 'cause of the surgery, but it also hides any dark circle from oops-I-had-too-much-wine-last-night.  3. Brighten up your nails. Adding nails polish will had a little color to your day, and you'll feel a little more girly.  4. Your hair is everything. If you have nice, well put hair, nobody's gonna care if you are wearing makeup or not. They will all be blown away by your perfect curls.
The thing is, nobody cares that you wear makeup or not, it is more for yourself. Some people even said that I looked super nice without mascara (was it I lie? I don't care). I guess the thing that will be more difficult is getting back to my old routine of applying a little something on my face before going to work. I had a reason to get ready in 5 sec, but until friday, no more!