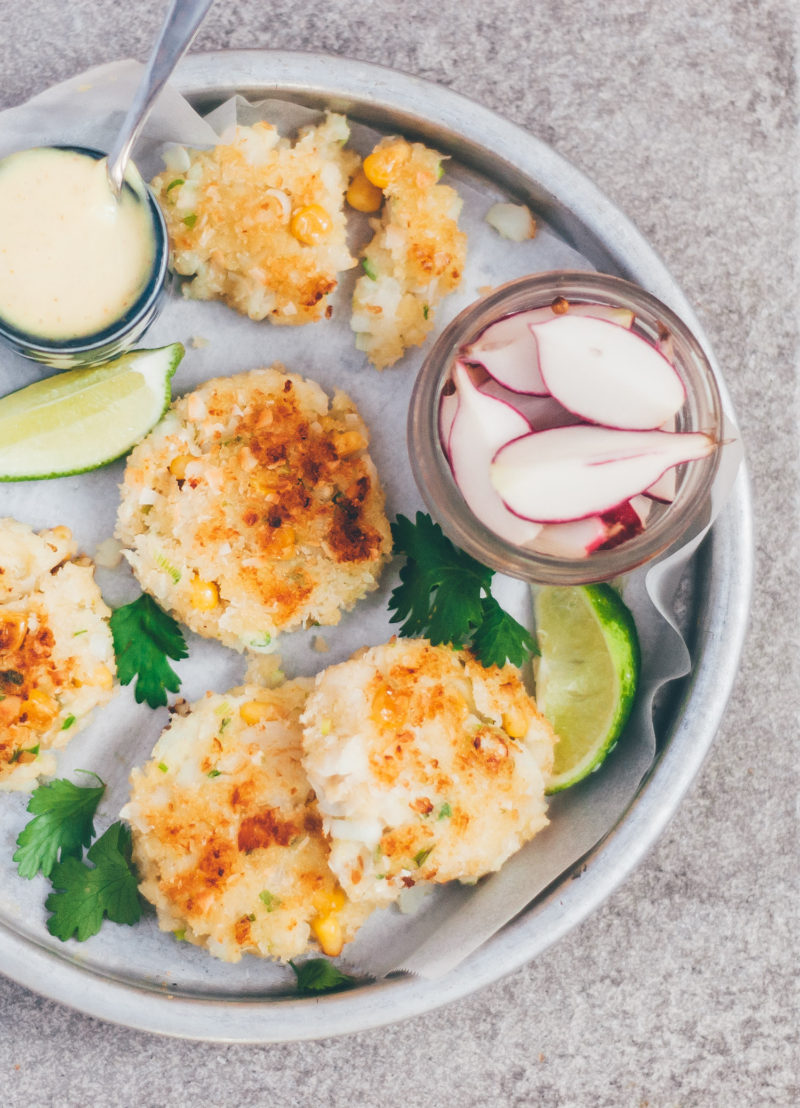 We love recipes that are full of fresh flavours and quick to make for weeknight dinner meals.  These crispycod cakes are terrific to have on hand in the freezer. You can either use fresh or frozen fillets to prepare them.  With their crispy coconut breading, these patties are delicious served with our spicy mayonnaise.
We almost feel like we're at the beach!
Coconut, lime and corn cod fish cakes  
Yield: Makes 3-4  portions (8 fish cakes)
Ingredients
Patties:
2 cod fillets
1 egg
3 tablespoons yogurt
1/2 teaspoon lime zest
1 green onion, finely chopped
1/3 corn kernels
1/4 cup unsweetened shredded coconut
3/4 cup panko
Breading:
1/2 cup unsweetened shredded coconut
1/2 cup panko
2 tablespoons canola oil
Spicy mayonnaise:
1/2 cup mayonnaise (store-bought or homemade)
1 teaspoon Sriracha or Sambal Oelek (or more, to taste)
1 teaspoon fresh cilantro, finely chopped
½ teaspoon lime zest

Instructions
In a small bowl, mix all the ingredients for the spicy mayonnaise. Cover and chill.
Preheat oven to 400°F and line a baking sheet with parchment paper.
Place fish on the baking sheet and season generously with salt. Roast until fully cooked, about 10 minutes.
Using a fork, break fish into small flakes and drain.
In a bowl, combine all the ingredients for the patties. Add salt if needed.  
Tightly form mixture into 8 patties. Chill for 45 minutes.
On a plate, combine the remaining shredded coconut and panko for the breading and coat each patties with this mixture.
Heat canola oil in a large skillet over medium-high heat. Gently cook patties until golden brown. Transfer to a paper towel before serving.
Serve with the spicy mayonnaise and a glass of white wine!
Thinking about using this recipe? Be sure to tag us in your picture!