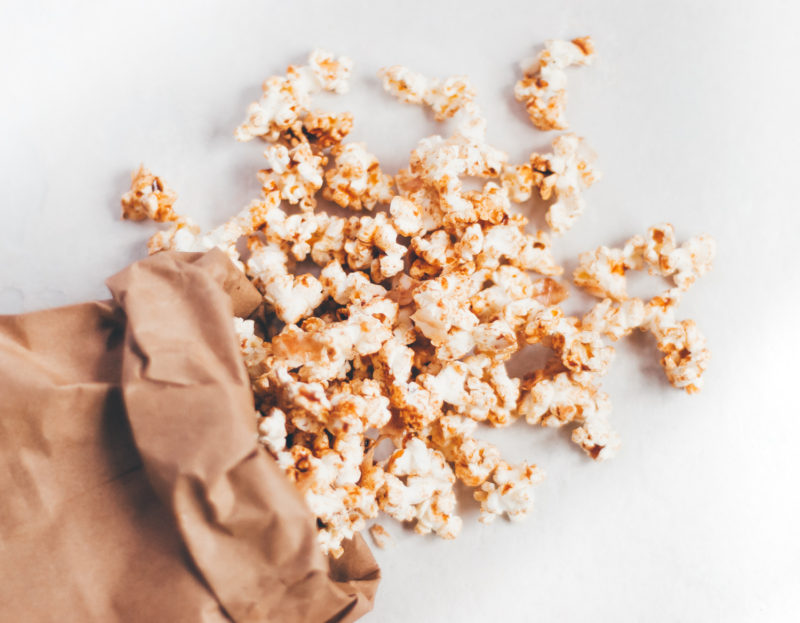 Although we love trying out new snacks recipes, we just can't think of anything better than a big bowl of pop corn for movie nights! This fluffy coconut, cinnamon, maple and butter coated version will satisfy your sweet tooth and literally takes five minutes to make. We bet this will become your go-to sweet and salty snack for late-night cravings.
Sweet and salty pop corn with coconut, cinnamon and maple
Ingredients
1/4 cup corn kernels
1 tablespoon butter
1/2 teaspoon cinnamon
2 tablespoons maple syrup
2 tablespoons coconut flakes
Sea salt
*Brown paper lunch bag
Instructions
Place the corn kernels into the paper bag.
Firmly fold the top of the bag, two or three times. Place in the microwave and cook for 2-3 minutes or until the time between pops slows to about 2 seconds. Pour pop corn into a large bowl.
In a small saucepan, melt the butter. Add cinnamon and maple syrup and bring to boil over medium-high heat. Turn the heat down to medium-low and let boil for 3 minutes.
Remove from heat and pour into pop corn stirring as you pour to cover it all in the maple mixture. Add the coconut flakes and sprinkle with sea salt.
Don't forget to tag us in your picture if you're trying our recipes!